Chiropractic Testimonials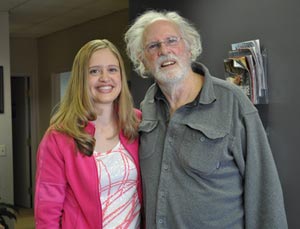 Dr. Thone had the privilege to treat an Academy Award Nominee, Bruce Dern several times while he was in Northeast Nebraska filming the movie "Nebraska". Bruce gave her permission to advertise this and this is what he had to say about her and the clinic:
"I came in for hip and piriformis muscle pain from a running injury. Dr. Angie is far and away the best for sports-related injuries that I have seen. She also treated my right knee and recently torn quadriceps. The clinic is wonderful and her staff are nice. Most importantly, Dr. Angie made me feel like I was going to run again on all cylinders and then proved it! I had adjustments, acupuncture, and massage. The treatment was painless and ever so helpful. If you're hurt, go see Dr. Angie!"
- Bruce Dern
---
"My general health was very good prior to suffering a fall which resulted in a concussion. A few months after the fall, I developed vertigo and nausea. My physician could do nothing to help me except give me exercises, which did not help. It was difficult to live alone with this condition and Dr. Angie was recommended to me. I started feeling better right away after the first visit.
I needed adjustments three times per week for a few weeks, then twice per week for several weeks, then once per week until my symptoms were gone. I am now able to turn my head and neck in both directions, and am without any vertigo or dizziness. I am now able to drive my car and live a normal life. I would recommend Dr. Angie and her staff. It was amazing to see how I progressed."
- Mary G.
---
"Great place to go for pain relief! A very caring & friendly staff."
- Dixie L.
---
"I would recommend A Center For Chiropractic to anyone needing pain relief. They offer multiple services from adjustments to therapies & acupuncture and have a licensed massage therapist that does an amazing job!"
- Anonymous
---
"I would recommend both Dr. Jacob Thone and Dr. Angie Thone to anyone for their chiropractic and acupuncture needs. They are both very knowledgeable and have been a great help concerning alternative ways to improve my health."
- Google User
---
"I started taking my youngest daughter to see Dr. Angie at A Center for Chiropractic & Alternative Medicine, P.C. when she was about 6 months old due to her ear infections. Even though she was so young, you could tell by the look on her face that the adjustment made her feel better. I continue to take both my daughters to see Dr. Angie when they are ill. The adjustments make them feel better and help them to recover quicker.
I like taking my children here because Dr. Angie listens and offers many helpful suggestions. I'm very grateful that she got me started on giving my daughters Vitamin D every day and probiotics. I would recommend A Center for Chiropractic & Alternative Medicine, P.C. to anybody. I'm very happy my friend Lisa recommended it to me!"
- Kristi J.
---
"I highly recommend ACFCAM for chiropractic care. All the staff are very friendly and helpful, and the clinic itself is a calming oasis. I have chronic back pain, and have used chiropractic care to control it for decades. I was so pleased to find Dr. Jacob Thone! He is a natural; I haven't had a chiropractor with his high caliber of skill since the 1990s! The Center has a wide array of therapies available. Dr. Thone has ordered a manual stretching to be done by his staff as part of my therapy. I have not been this pain-free in years. Thank you ACFCAM!"
-Deb W.
---
"Dr. Angie and her staff are very nice and I enjoy talking to all of them. Dr. Angie has helped me a lot. Thanks for everything."
- Kim B.
---
"I am so thankful for Dr. Angie and staff. Every time I call with back pain they are so compassionate and get me in for treatment asap! Thank you for your good care!"
- Michelle C.
---
"Dr. Angie saved my little girl from having to get tubes in her ears. She was able to clear the ear infections up right away and make her feel so much better than the antibiotics ever did. We called it her Attitude adjustments."
- Lisa S.
---
"Dr. Angie is an amazing doctor! I started seeing her for acupuncture due to difficulty sleeping and feeling tired all the time, and also for neck and back pain which I suffered from after a car accident. I love the fact that she looks at the whole body to treat your issues and tries to find any underlying factors that are contributing to your discomfort, unlike a regular doctor that would just prescribe a pill to treat symptoms.
She has done an amazing job for me, so much so that I also brought my 6 year old son to her for his bed wetting issues. After just a couple weeks, he stopped having accidents, and now he only rarely has accidents! Thank you Dr. Angie!"
- Julie P.
---
"I have always gotten relief from my lower back pain from the gentle hands of the folks at A Center for Chiropractic & Alternative Medicine."
- Rose R.
---
"Dr. Angie and Dr. Jacob Thone are absolutely amazing! They go above and beyond to ensure my body is functioning as well as it should. The staff are phenomenal - super friendly and always ready to help!"
- Janie S.
---
"I was really impressed by the quality of care that I received for my neck and shoulder pain at A Center for Chiropractic & Alternative Medicine. I can't recommend them highly enough."
- Steve W.
---
"Dr. Angie is the greatest. She understands the needs of the older patients. She's very talented in many areas, such as, acupressure and other alternative medicines. She has a great personality and responds to the patient very well."
- Pam G.
---
"Dr. Jacob Thone is very easy to talk to and caring. He was not only cordial and quick to explain everything, he is also sharp and really knows what he is doing. I benefited from both the adjustments and acupuncture. I recommend him highly!"
- Joe B.
OFFICE HOURS
---
Monday
8:00am - 5:30pm
---
Tuesday
8:00am - 5:30pm
---
Wednesday
8:00am - 5:30pm
---
Thursday
8:00am - 5:30pm
---
Friday
8:00am - 5:00pm
---
Saturday
By Appointment
A Center For Chiropractic & Alternative Medicine, P.C.
1800 West Pasewalk Avenue #102
Norfolk, NE 68701
Phone (402) 371-4673
Fax (402) 371-7431